Art, // January 2, 2020
African Contemporary Artists Show, Benicia, CA — ART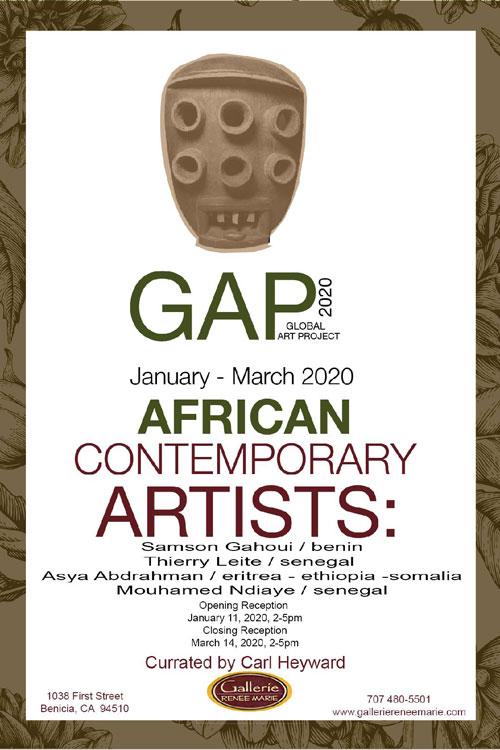 African Contemporary Artists
Jan 11 th – March 31 st 2020
1038 First Street, Benicia, Ca 94510
(707) 480-5501
Hours M – F  9 am – 4 pm,  Sat 11 am – 5 pm and by appointment
The African influence in western culture is prevalent, encompassing and evident in dance, music, language and art. That influence is ingrained in our perception of what modern art was to become either begged, borrowed, stolen or appropriated by the likes of Picasso, the Cubists and the Surrealists; embraced and transformed by Jean-Michel Basquiat,  Romare Bearden and Nick Cave or re-introduced as a living lineage in dance, painting, spoken word and fashion.
African abstraction in mask and costume making, sculpture and the plastic arts inhabits a spiritual dimension and continues to evolve as a unique entity and as a form unto itself.
During the Global Art Project residency at Espace Sobo-Bade, Toubab Dialow near Dakar (GAP VII Senegal) we collaborated with visual artists and musicians from Ghana, Benin and Senegal with whom we shared time, art and techniques over the period of the month of January 2019.
The work of three of these practitioners (Mouhamed Ndiaye / Samson Gahoui / Thierry Leite) are featured along with the work of USA based artist and curatorial culture worker Asya Abdrahman (Ethiopia / Eritrea / Somalia) and selected photographs from THE SENEGAL MASK SERIES by GLOBAL ART PROJECT member Margot Hartford (usa/canada) reflecting the spirit of respectful discovery of lineages, of peoples and practices in aesthetics and humanity. Through March 2020 at Gallerie Renee Marie promoting the exposure of Benicia area, regional, California, national and international artists.
Opening Reception:

Saturday January 11th from 2 – 4 pm
Closing Reception :
Saturday March 14th from 2- 4 pm