Art, // December 26, 2014
Daniel Stepanek – ARTIST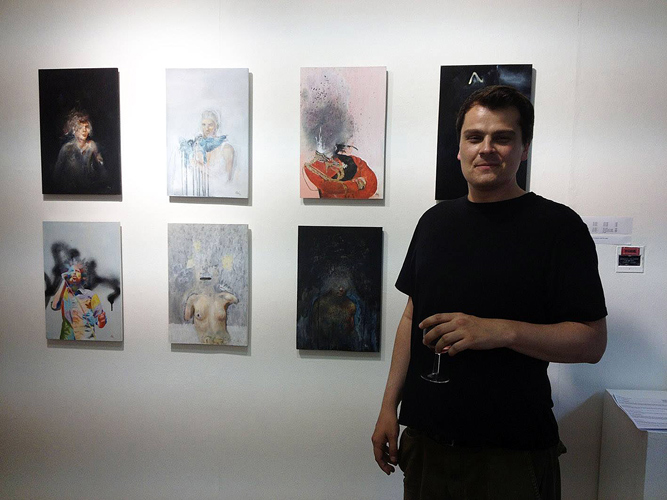 Interview with artist Daniel Stepanek

1. Who are you and what do you do?
Hello readers of Arts Illustrated. My name is Daniel Stepanek, 39 and a self taught artist.
2. Why art?
Originally friends and family would say I was always good at it, probably just being kind I suspect. Never the less I continued on and found it a nice place to be when I did draw. It has slowly consumed me and I am forever grateful for it.
3. What is your earliest memory of wanting to be an artist?
Primary school drawing monsters. But actually taking it seriously when I was in my mid twenties. I had some direction from some illustrators and graffiti artists who explored various mediums/styles from which I tried to follow but never really nailed it. There was one night where I watched the film Basquiat, I loved the way he was a quiet and peculiar guy and in many ways I felt I could relate to that. After researching him a little and to see him paint in such a raw and untapped way opened my eyes. It was really at that point I wanted to be an artist. I was 28.
4. What are your favorite subject(s) and media(s)?
I find myself drawn to dark and abstract visual stimulus, mostly paintings and some sculptures. A portrait has its limits, the human face can only display so many emotions. The more I practiced abstract portraits it became obvious that completely removing the face was OK. It could be replaced with literally anything. Those initial limits need not apply now. Working this way can communicate a more intense insight of the artist and the subject. We are complex animals and a pretty picture just doesn't cut it.
5. How do you work and approach your subject?
First I douse myself in doubt, then sprinkle a little procrastination in there then I run into a brick wall just to loosen myself up (metaphorically speaking). Ideally I want to have a photo shoot with models with some cool props/costumes and get them to lose the plot for a while to get some great reference images. Until then I search for hours and hours online for a subject that has the intensity and style I could work with. I create a loose outline on the canvas then just start painting knowing I am potentially going to paint over it all in the hope I find something new. I am perfectly happy losing hours of work in the swipe of one brush stroke if it means a more interesting piece. It's not an easy approach to take. I don't like the uncertainty of it. It's just the way my works appeared, through experimenting and failure.
6. What are your favorite art work(s), artist(s)?
There are great artists everywhere. I am sure I could be led in various directions depending on what I've seen but currently some of my favourite artists are Antony Micallef, Johan Van Mullem and Nicola Samorì.
7. What are the best responses you have had to your work?
Having Red Propeller Gallery represent me was probably the best. It's a mile stone many artist want to reach. I did for years and when they emailed out of the blue I couldn't believe it.
8. What do you like about your work?
I like it when it becomes an extension of myself. To be able to reach out to people I will never know and to enjoy a connection in an unspoken, almost ethereal way.
9. What advice would you give to other artists?
Do the mileage. Practice a lot. Let it take over your life. Don't let your style go stale. Scare yourself.
10. Where do you see yourself in 5-10 years?
In some sort of studio I can be really really messy in doing this full time. I won't stop making my art. Hopefully it will continue to evolve. I need to be prepared to follow it in its most natural way.
LINKS:
Email – danstepanek@gmail.com
Website – www.danielstepanek.co.uk
Facebook – www.facebook.com/danielpstepanek
Youtube – https://www.youtube.com/watch?v=ldwRTnvrJnM