Music, // December 11, 2016
Filipe Batalha — MUSICIAN
Interview with musician Filipe Batalha —
1. Who are you and what do you do?
Hi! I am Filipe Batalha and I am the vocalist and guitar player for Melodraw. Melodraw is a band I started in 2006 in Ericeira, near Lisbon, and we play alternative rock, or, as we like to call it, bipolar rock. We released our first album "Whiskey & Bananas" in March this year, and made a video for the first single, called "She Doesn't Care."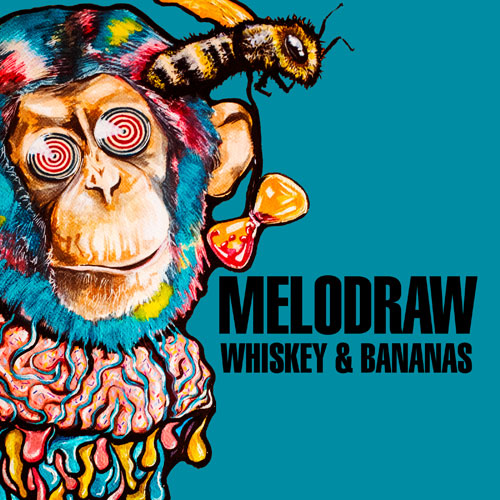 2. Why music?
Music is my biggest passion. I love to listen to it, I love to create it. It's a great way to express myself and having fun with it.
3. What is your earliest memory of wanting to be involved in music?
I started listening to my older brothers vinyl records in my attic around 1991 or 1992. That's when I fell in love with music. The first record under the needle was "The Doors." What a great start! I still listen to it these days. So, after many years singing in the shower, when I was 19 I began to learn how to play the guitar. Two years later I founded the band that later would be Melodraw.
4. What are your favourite subject(s) and style(s)?
My favourite genre is Rock n Roll, in all its range. I have lots of influences, such as: Pixies, The Doors, The Stooges, Led Zeppelin, Black Sabbath, The Beatles, Rolling Stones, Lou Reed, Pink Floyd, Metallica, Nirvana, Alice in Chains, Smashing Pumpkins, Stone Temple Pilots, Queens of the Stone Age, etc.
5. How do you work and approach a new piece that you are working on?
Normally we pick some riffs that we've recorded alone or together, and present them to the band. Then we start working on it, everyone giving their ideas. I usually write the lyrics after the music and the melody, but I've done the opposite too. Experimentation is the bottom line in the process, respecting everybody's taste in the band.
6. What are your favourite musician(s), singer(s)?
My favourite guitar players are Jimmy Page and David Gilmour. My favourite drummers are John Bonham and Dave Grohl. Bass players – Flea and John Paul Jones. Singers – Jim Morrison and Layne Staley.
7. What are the best responses you have had to your work?
I love when people come talk to us at the end of the shows to compliment us on our music or buy our record. It's so rewarding. We also had support from radios, TV, news sites, art sites. It's great to share our music with as many people as possible.
8. What do you like about your work?
The freedom of it. It's amazing how you can explore so many things in arts. You can explore yourself and your band, craft your style, learn with experiences, grow as a musician and as a person. Art keeps our lives interesting.
9. What advice would you give to other musicians?
Play the music that you love. Stay real.
10. Where do you see yourself in 5-10 years?
I have no clue. Let's keep it that way.
LINKS —
Spotify: https://play.spotify.com/artist/593lE1uwyitoA9rNuZZ12r
YouTube:  https://www.youtube.com/channel/UCPQxKaueefcTyzWrQcOtZIQ
Facebook:  https://www.facebook.com/melodraw/
Instagram:  https://www.instagram.com/melodrawofficial/
Twitter:  https://twitter.com/melodraw
iTunes:  https://itunes.apple.com/us/artist/melodraw/id932780274
Save