Art, // October 21, 2014
Gabriel Moreno – ARTIST
Gabriel Moreno, Andalusian artist (Baena, 1973) based in Madrid. He started his career in 2007 when he uploaded his portfolio for the first time online. In only a few months, he was selected as one of 20 new talents of illustration by Computers Arts Magazine. From then on he has made numerous commissioned advertisement works, becoming a renowned artist in the field of illustration.
He has been chosen as one of the hundred most influential illustrators in the world of advertising over the past decade by the publication 100 Illustrators by Taschen and was featured on the cover of Illustration Now! 4.
He has also created covers for the Wall Street Journal and is the only illustrator to ever make the cover for the Los Angeles Times. Moreno's work is featured regularly in the Wall Street Journal, Squire London, GQ USA, The Country Weekly, Sunday Times and Rolling Stone.
Gabriel Moreno is perhaps best known for his work in advertising, where his experience and reach is remarkable. He has participated in many international projects collaborating with agencies such as McCann Erickson New York, J. Walter Thompson Singapore, Beirut Leo Burnet, Wieden + Kennedy Shanghai, BBDO Moscow,TBwaA / Chiat / Day Los Angeles and Young and Rubicam Paris. His work has lit up the advertising campaigns of iconic brands such as Nike USA, Rolex, Victoria's Secret, Universal Music or Coca-Cola.
Concurrently with his commissioned work, he has been developing his personal line of art. His pieces make striking statements about female beauty through graphic and elegant images. His works are usually comprised of flowing and precise fine black lines, over which he deploys shocks of color accenting on clothing, faces, or environments. He uses dramatic gradients of colors and multiple layers that emerge from the images and involve the figures. His talent is peculiar for its ability to create a space in which the viewer can remain lost, shocked, and awed. In order to fulfill his vision, he works with etching and he uses multiple media and tools such as pencil, ink, marker, watercolor, and digital art.
INTERVIEW with Arts Illustrated
1. Who are you and what do you do?
My name is Gabriel Moreno and I am an illustrator primarily featured in advertisement campaigns. However, I also have developed my own line art in the lasts years.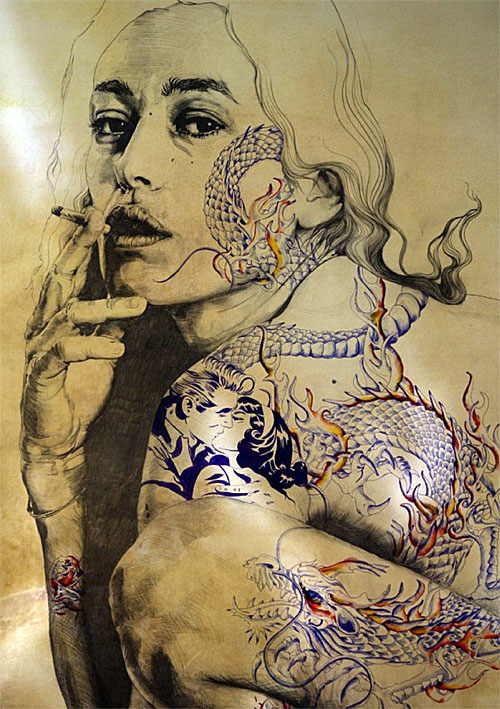 2. Why art?
I would say it began when I was a child. I was drawn in by the interaction between movement and line. I just started creating and I suppose "art" came out; including all over the tables at school.
3. What is your earliest memory of wanting to be an artist?
As I mentioned above, it started as a kid. I´d draw in school and they´d tell me to leave class. So, in essence, I followed a path that led to the evolution of my interests and not one in discordance.
4. What are your favorite subject(s) and media(s)?
Firstly, discussing my personal interests in subject matter, I would have to say it is the female body in rhythm with its gestures, the curvature of their necks, their mouths. I simply enjoy looking at a woman and drawing her. From that moment she can become as profound or superficial as she turns out to be.
Regarding the medias, I illustrate with pencil and ink. However, the mix of technology with my ideas on paper is what brings the total piece together.
5. How do you work and approach your subject?
I approach my work with the intention of best representing the subjects to be portrayed but also doing so in accordance with my specific drawing style. I search out the dynamics that most aid in the development of that particular work both for the subject and for what most suits my vision of the finished work.
6. What are your favorite art work(s), artist(s)?
It's quite difficult to say who has influenced my work. Basically everything I see and everything I read can have its place in my work whether that be consciously or unconsciously. There are many artists that I admire but I am not able to quite put a finger on who has influenced me more than another. I can say that the superheroes of Marvel comics have had their impact, as well as artists such as Milo Manara, Gustav Klimt, Alphonse Mucha or Robert Mortherwell. When I began illustrating I paid a lot of attention to Berto Martínez.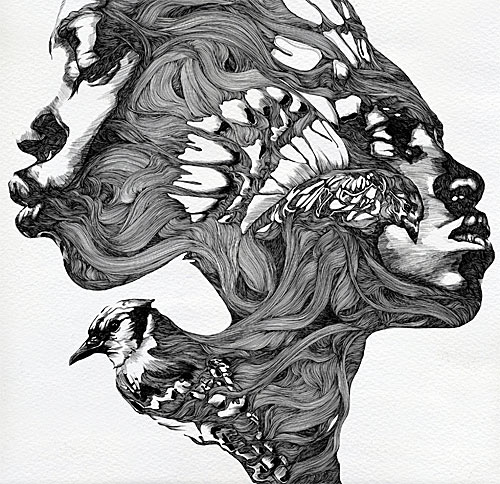 7. What are the best responses you have had to your work?
I'm still surprised when I check Facebook and find the number of followers rising. To have 630,000 people who follow my work continues to have its impact on how I feel about sharing my work. More than anything the fact that people comment at all is the true best response. It leaves me humbled.
8. What do you like about your work?
I like that I get to create. I feel as though to have this wonderful job of creating constantly is what I always wanted. Having a vision, changing it, reinventing, and wrapping up a finished piece. To have the time and make a living from what I love doing is what makes it all worthwhile.
9. What advice would you give to other artists?
Create and don't stop creating. Take risks and put your best work together to create the best portfolio you can present.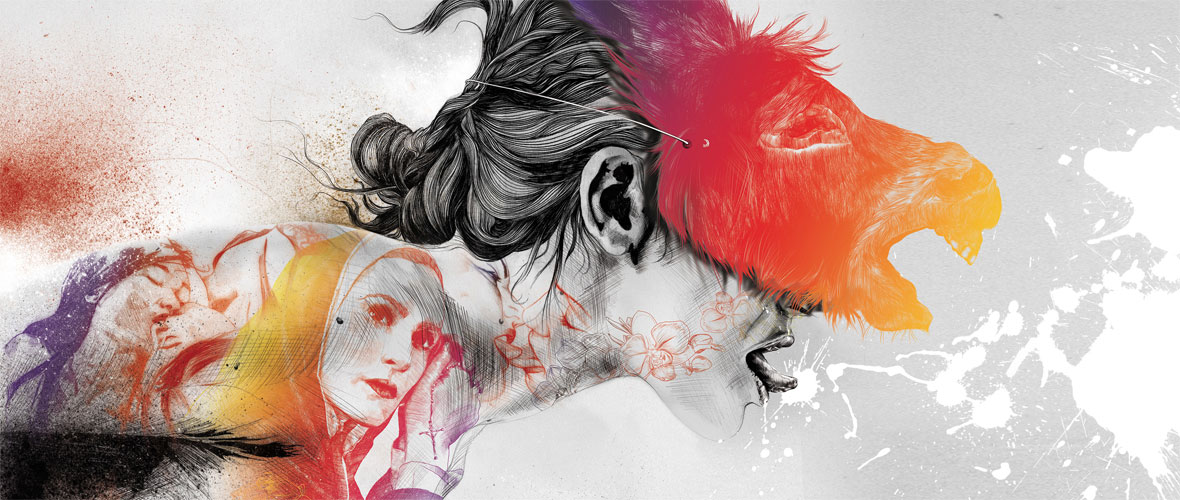 10. Where do you see yourself in 5-10 years?
To be honest, I hope to be in the exact same place as I am right now.
LINKS —

http://www.gabrielmoreno.com
http://www.gabrielmorenogallery.com
http://www.facebook.com/GabrielMorenoIllustrations