Art, // December 22, 2014
Henri Lamy – ARTIST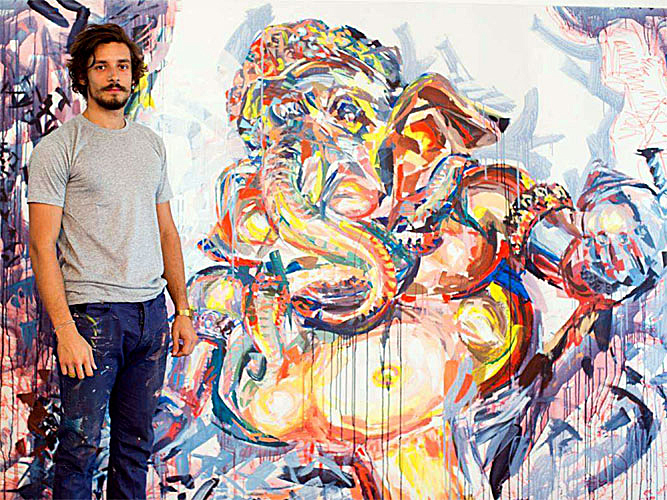 Interview with artist Henri Lamy
1. Who are you and what do you do?
I am a 29 year old painter, inspired by faces. I use palette knife strokes of acrylic paint to describe how people I meet strive for their dreams. As my aim is to encounter human beings and enter their reality, I started to travel, firstly in Asia, then soon in America.
I entered the 59 Rivoli, Art Squat in 2010, a six-floor building located in the center of Paris, that consists of 30 artist studios opened to the public. It was a kick start for my career. I met someone working for Akarenga, Yokohama, and departed to Japan at the end of my art residency. I spent a month there, and took part to other projects and met many inspiring people.
Then I had a show in Nanjing with Coral Contemporary, where I painted scenes from a novel written by my father 30 years ago. The book, called A Fool's War is about a man who invents himself an other life. Later on, I went to Beijing and took part to a couple of other shows.
Since then I kept traveling and had other residencies and workshops in the Philippines, and a solo show at Altromondo Gallery. I also got to meet and paint Jimmy Cliff and Joss Stone at Malasimbo Music and Art Festival in Puerto Galera.
It showed me how much the people that I had met could give me just by sharing their vision of life, and of course, their art. I did another Residency in Thailand with Modern Gallery who invited me to a give a fresh insight on their culture.
Recently I made an experiment about mixing Capoeira and painting in a cage, and let the flow lead the painting's creation. You can have a look at the video we shot in Montceaux les Mines.
2. Why art?
My dad was an artist, and for as long as I can remember, I loved drawing. I quickly realized that painting with a palette knife helped me express people's emotions even more. I was fascinated by how staring in someone's eyes could reveal so much about that person. I could also imagine and recreate a new story of my own. This is why I started doing portraits.
3. What is your earliest memory of wanting to be an artist?
I was painting all the time. In class, in my parents' basement, in the street. I had bad grades and couldn't focus in school, art kind of saved me. Throughout my studies in advertising and product design, I was selling pieces of artworks here and there. Then I met a painter called Yann Couedor who told me that I had to put 100 % of my energy into art if that's what truly made me happy. So, I quit my job, and here I am.
4. What are your favorite subject(s) and media(s)?
People and emotions. We all go through similar life events and I want to capture these specific moments. Depending on the situation, different media (acrylic with palet knife, painting through capoeira moves, wood engravings) are more suited to express specific messages.
5. How do you work and approach your subject?
By trying to stay curious, creative and trying to make the most out of situations surrounding me. It demands me to fight against the artist's most dangerous drawback : tending to be self-centered due to the creation process.
6. What are your favorite art work(s), artist(s)?
I like Francis Bacon's accidents, Jackson Pollock's letting it go, Lucian Freud's magnifying our daily life dullness.

7. What are the best responses you have had to your work?
Making people happy. I think the most powerful response I have had was my grand-mother's reaction to the painting I did about her father who had passed away. She said she felt he was with her when she looked at the painting.
8. What do you like about your work?
I love the fact that my work makes me travel the world to meet new faces and find new inspirations.
9. What advice would you give to other artists?
To invest your time, energy, and talent. I don't believe there is a big secret about it.
10. Where do you see yourself in 5-10 years
May be I'll have a family of my own. A studio, and if I'm lucky it will be big enough to welcome different people to exchange experiences and opinions about art and life.
LINKS

–

Website: http://henrilamy.fr/
Facebook: https://www.facebook.com/henri.lamy1?fref=ts