Art, // March 26, 2021
JR CHUO — ARTIST
Interview with artist JR CHUO —
1. Who are you and what do you do?
Hi, I'm JR CHUO  and I am a contemporary paper cut artist based in the UK. My artworks are inspired by patterns and forms found in nature, such as in coral reefs, and are grounded by traditional Japanese aesthetic ideas, such as wabi-sabi (beauty in imperfection) and ensō (a spiritual art form believed to expose an artist's true character). When I studied the impacts of climate change on corals as a child, I was struck by the tragic beauty of bleached corals and wanted to translate them into my art. Many of my ideas revolve around corals and explore the impact that climate change is having on them.
I released a collection of 14 original artworks last year, titled the 'Fluoro Tokyo Collection', exploring the notion of façades in society that conceal harsh realities. I focused particularly on climate change and the impacts it is having on our coral reefs. However, my pieces are each named after Tokyo subway lines and stations, which act as masks of modernity, concealing the tragic reality of climate change. I also explored the beauty of subway maps and their ability to condense an entire city into a relatively simple image.
2. Why art?
My interest in Japanese kirie (paper cutting) began during a trip to Japan in 2015, where I saw traditional hand cut ise katagami designs in a ryōkan (traditional Japanese inn) in Kyōto. Ise katagami is the Japanese craft of making stencils and is used traditionally to dye cloth, often to print designs onto kimono. I was struck by the piece's intricacy and almost microscopic level of detail. I was also drawn to the simplicity of the medium and the way that the artists had created such detailed artworks from sheets of paper. When I returned to the UK, I decided to try paper cutting myself and found the process incredibly meditative and grounding. I created several small pieces where I focused on exploring new techniques and experimenting with different types of paper. Eventually, I developed my technique and began creating larger pieces and in 2018, I started cutting my largest piece to date, a circular sheet of paper with a diameter of around 1 meter 40 cm, which I finally completed during the lockdown in 2020. I titled the piece 'Shinjuku', after Tokyo's largest and busiest subway station. 'Shinjuku' captures many moments of my life during the two years that it took to complete.

3. What is your earliest memory of wanting to be an artist?
I have enjoyed creating art from a very young age and began creating short film animations from the age of six. Before discovering paper cutting, I spent lots of my time creating paintings and still life drawings, taking photographs, keeping detailed sketchbooks and making films. I can't pinpoint one specific moment where I decided that I wanted to become an artist, but all of my previous experiences led to where I am today.
4. What are your favourite subject(s) and media(s)?
My favourite medium has to be paper! All of my work is made of paper and it is a medium that fits my personality perfectly. I have always been a perfectionist when it comes to creating art, and I enjoy the control and precision that paper cutting enables me to have.
5. How do you work and approach your subject?
I always have a clear idea of the style and design of my pieces before I begin the paper cutting process. However, my work tends to develop and change organically as I try not to stick to rigid plans. Listening to a podcast or simply the silence of the room helps me to concentrate.

6. What are your favourite artwork(s), artist(s)?
I am always coming across new artists that inspire me and whose work I am drawn to. My all-time favourite artists include James Turrell, Ai Weiwei, Takashi Murakami and Nahoko Kojima. Kojima was one of the first paper cut artists that I discovered and her work completely blew me away. She is a masterful paper cut artist who creates huge paper sculptures of animals.
7. What are the best responses you have had to your work?
I have received so many incredible messages on social media and from family and friends regarding my work. I am inspired when people tell me that they look forward to seeing my new pieces or when they share my work with their friends and family.

8. What do you like about your work?
Although I love seeing the finished product, I enjoy the process of making my art the most. I enjoy the peaceful introspection that takes place when creating each piece and the organic development of my designs and ideas. Having spent time in Shoreditch (London) as a child, I was brought up seeing incredible street artists, who use bold colours and designs to make unapologetic statements. As a result, I also love to use vibrant colours, especially fluorescent colours, in my work.

9. What advice would you give to other artists?
It can be easy to constantly follow trends and lack originality, but it's that very originality that's key to making your work stand out.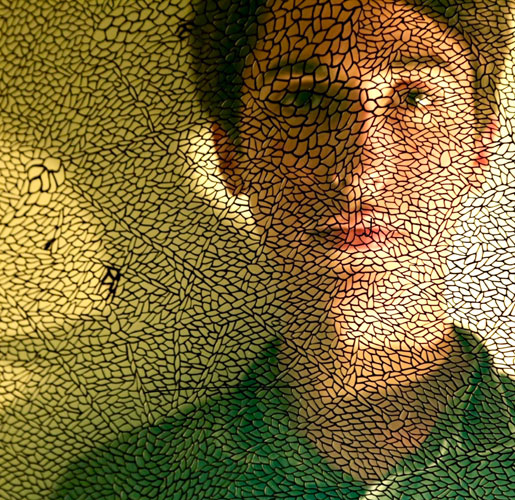 10. Where do you see yourself in 5-10 years?
I hope that I will be creating lots of new work and that my boldest and most ambitious ideas will come to fruition.
LINKS —

Website:  www.jrchuo.com
Instagram:  https://www.instagram.com/jrchuo/
LinkedIn:  https://uk.linkedin.com/in/jr-chuo-2461a81b6