Art, // March 2, 2021
Shruti Vij — ARTIST
Interview with artist Shruti Vij —
1. Who are you and what do you do?
I am an Indian based artist who's originally a Leather designer by profession, I blended my artistic skills with my experiences in the fashion field, bringing about a perfect marriage of my two passions.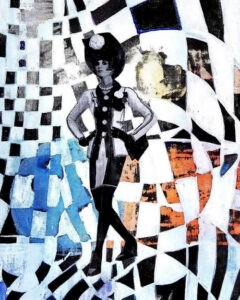 2. Why art?
I have always painted as far as I remember. Right from my school days, I hadan inclination towards art. I used to represent my school in inter-school competitions. I then went on to submit my artworks for state level competitions. Then there was a hiatus in my art journey as I needed more time to focus on academics. I seriously pursued art when I joined NIFT and had more time for creative pursuits but was not completely focused on it. Recently, I have realised that art is my true calling and this is what I enjoy doing the most.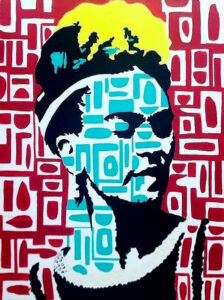 3. What is your earliest memory of wanting to be an artist?
Well, it was never that one moment but art was always a part of me. I used to draw and paint as a child. In my school, fortunately for me, art was taken very seriously. We had at least two hours dedicated to art every week during school hours and sometimes even after school hours. I was mentored by a very good art teacher, which sort of laid the foundation art for me. In my post grad years at NIFT, I was more closely acquainted with art and learnt a lot about styles and works of other artists from across the world. I was always connected with art but started pursuing it full time in early 2000s. It was a gradual progression for me to become a full-time artist.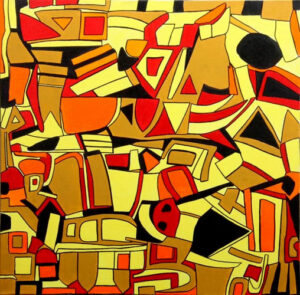 4. What are your favourite subjects and media?
I am a visual artist. For me visual appeal, colour and shape define my work. My abstracts are a riot of colour, they represent me and my thoughts. Whenever I paint I disconnect from the outside world and I think that shows on canvas. The common thread that runs through my artworks is their completeness and self-sustainability. I rarely do series, each of my canvases is a story in itself and doesn't depend on the other. My work also represents joy and optimism. I usually paint when I am in a good mood and that reflects in my work. You look at the artwork and feel joyous. I work with acrylics and mixed medium.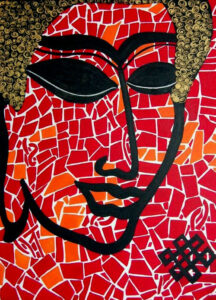 5. How do you work and approach your subject?
Art is usually about self expression, because the artist feels strongly enough about what they are doing to try and put it into a form that they,and others,can come to terms with. One of the functions of the artist is is to make a statement of some kind. I find my deepest source of inspiration simply in the ' process ' of creating something out of nothing. As a rule,I never know what my painting will look like before I begin and this mystery is exactly what creates the excitement and curiosity. I need to stay inspired,I rely on my own intuition and the concept of 'working with what's working' to keep momentum as my paintings emerge naturally on their own time.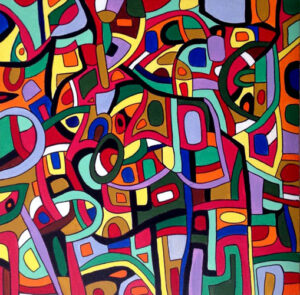 6. What are your favourite artworks and artists?
The artists which inspire me are Frida Kahlo and Amrita Shergill because of their revolutionary way to present women in their artworks. My most favourite artwork is Panchtatva from the Bindu series by SH Raza.
I have always admired geometrical abstraction and I like precision and structure in artwork.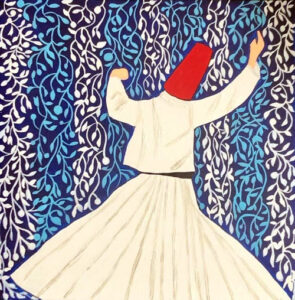 7. What are the best responses you have had to your work?
I have enjoyed each and every show that I have been a part of. It has been a great learning experience for me. I have improved as an artist and my style has evolved over time and I attribute this partly to my shows. The biggest moments of success  have been getting appreciation from art aficionados and critics alike in India as well as abroad. A few of my works have also been exhibited in various International events like Delhi International Film Festival ,Indo-Korean Art Festival and World Art Dubai.
8. What do you like about your work?
Like I said before, the completeness of my artworks. When you look at my work, you should feel joyous. The colour, brightness and patterns are the key elements of my work. I play around with these and try to create wholeness using colour and patterns as props.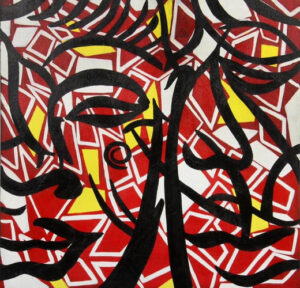 9. What advice would you give to other artists?
Art is not easy just like any other field. If you want to make a mark, work hard and work consistently. The more you work the better you will get at your craft. Look around, take a moment to absorb the sights and sounds around you and paint away. It's not always a smooth sail, take the ups and downs of your journey as they come. Do not be discouraged by what others say or don't say, just follow your dream and make it work.
Keep the faith strong and keep surging ahead.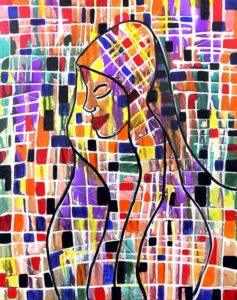 10. Where do you see yourself in 5-10 years.?
During the past few years, I have participated in many art shows,mostly in and around Delhi and has won great appreciation from art lovers and critics alike. I have an art studio by the name of Shruti Arts.I have taken part in several national and international exhibitions, contributed my artworks for noble causes , judged art competitions, participated in various art workshops collaborated with interior designers and have done two solo art shows. And in coming times , will achieve more and inspire people though my artworks. I don't really know how things will pan out in the future but fingers crossed for the best. I am working on some very exciting assignments which will slowly unravel in months to come. Can't reveal much because its work in progress.
LINKS —

Instagram: www.Instagram.com/shruti__arts
Facebook: www.Facebook.com/shrutiarts
PROFILE —
Gurugram based artist Shruti Vij , is a product of the prestigious National Institute Of Fashion Technology ( NIFT) , New Delhi, and is an art enthusiast , a painter with a distinct individual style. Always an evid follower of art, the artist herself acknowledges art her true calling when recently, she decided to plunge her head into the world of painting. Shruti Vij, an Indian based artist who's originally a Leather designer by profession, Shruti blended her artistic skills with her experiences in the fashion field, bringing about a perfect marriage of her two passions. Art paved a way for her to express her feelings and experiences in no other way she had experienced before. She terms it as therapeutic and a healing process. Painting for her is a passion and not a mere vocation that gives her an outlet to express her innermost feelings by creating a colourful world. Shruti's art is not limited by style or technique. She likes to leave it free. It is about what touches her heart. The common element that runs through all her works is beauty that appeals to everyone and puts a smile on viewer's face. During the past few years, Shruti has participated in many art shows , mostly in and around Delhi and has won great appreciation from art lovers and critics alike. She has an art studio by the name of Shruti Arts.