Music, // October 13, 2014
"A.J. Froman" – MUSICIANS
A.J. Froman is a 5-piece experimental, progressive-rock band fronted by a female vocalist. The band is based out of Ocean Beach, San Diego and consists of Sarah Norwood (vocals), Jeff Shaefer (guitar/synth), John Joyce (bass), Albert Bowman (guitar), and William Hart (drums). All original music with one CD release in 2013 available at http://ajfroman.bandcamp.com and just released a new EP August 26th, 2014. Our sound is rock driven with psychedelic, ambient breakdowns, syncopated rhythms and driving dancy riffs.
1. Who are you and what do you do?
We're A.J. Froman. We create music, dance, perform live, record, and have a lot of fun.
2. Why music?
It's an outlet that stimulates our minds and provides us with a way to thrive in the present and   share presence with the human community.
3. What is your earliest memory of wanting to involved in music?
Singing in the bath tub.
4. What are your favorite subject(s) and style(s)?
Subjects: art, photography, math, science….Styles; blues, soul, psychedelic, progressive, experimental, hip-hop, jazz.
5. How do you work and approach a new piece that you are working on?
We usually start with a guitar/bass riff and mindfully build the foundation, structure, lyrics and breakdowns, then, we go electric. As the work builds momentum, we listen carefully and make artistic choices often adding rhythmic pauses and time signature changes. We are starting to exchange ideas and create as a group rather than individually, which is really nice.
6. What are your favorite musician(s), singer(s)?
Frank Zappa, Radiohead, At the Drive-In, King Crimson, Tool, Led Zeppelin, Ani DiFranco, Fiona Apple, Primus, Pink Floyd, Mastadon, early Incubus, etc.
7. What are the best responses you have had to your work?
"It takes you on a journey."
8. What do you like about your work?
It connects us and uplifts us.
9. What advice would you give to other musicians?
Play all the time and learn from everyone you can.
10. Where do you see yourself in 5-10 years?
Creating, recording/mixing and touring.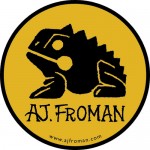 Photos: available at:
http://www.facebook.com/ajfroman
http://www.ajfroman.com
A.J. Froman Video:
https://www.youtube.com/watch?v=2jNQhZyPJ-0 (Live clips and crowd shots from our set at Winston's in Ocean Beach.)
Contact info:
Email: ajfromanband@gmail.com | johnjoyce203@gmail.com
Phone: 203-536-7817 | 619-302-6722
Postal: 5056 Del Monte Ave. Apt 4
San Diego, CA 92107
Website: http://www.ajfroman.com