Art, // May 15, 2023
Antonio Montibeller — ARTIST
Artist Antonio Montibeller – combining the beauty and solidity of metal with the art of artistic design.
1. Tell us a little about yourself.
I am Antonio Montibeller – visual artist, I was born in 1981 and I live in the city of Brusque-SC, in the south of Brazil. My artistic interests began in childhood, I stood out with my ability in school work and competitions. I attended oil painting and drawing courses. When on September 11, 2001 I entered the metalworking area and stopped with the arts, focusing on technology and technical drawings. Today I graduated from the Faculty of Technology Senai in the Mechanical Manufacturing course and postgraduate in Master Business Administration (MBA) in Production Engineering from the Uniasselvi Group – Centro Universitário Leonardo da Vinci – SC. After many years building my technological career, limited by technical standards and norms, I recapitulated my artistic history. Returning in 2013 with new ideas and the need to create, I combined the beauty and solidity of metal with the art of artistic design.
In 2015 I became a member of the BLUAP group (Associação Blumenauense de Aristas Plástico) I currently hold the position of 2nd Treasurer participating in individual and collective exhibitions.
2. Why art?
Thinking about it, I also wanted to ask Art: why me?, because art runs through my veins, it's in instinct, in creation, in emotion. It's inevitable, I find art in everything like a sniffer dog making correlations with stories, feelings and cultures in a great symbiosis.
3. What is your earliest memory of wanting to be an artist?
When I was 11 years old, I participated in a group exhibition of drawings at SESC in Brusque/SC at the encouragement and insistence of a teacher, and the sensation of having an artistic work exposed to the public fascinated me a lot. Another memory was when I was 14: my father worked as a mason, I helped part-time. One of the services was renovating a house, but for me it was a special house, because a lady artist and art teacher lived there. So when I had downtime on renovation work and no one was around, I would peek into the books on painting in the house. At the time a distant dream.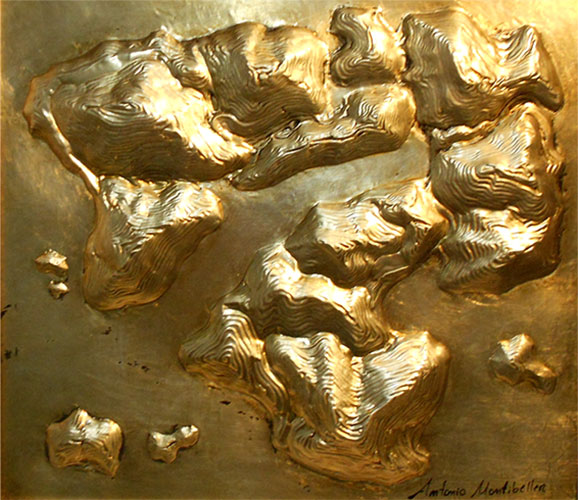 4. What are your favorite themes? What materials do you use in your works?
The themes that attract me are stories, beliefs, religions and surrealism. I have a variety of works: some I use oil paint, others watercolor, but in most of the works I use metal. Sculpting metal blades with punches leaving them in high relief, crossing the limits of two-dimensional drawing to three-dimensionality on the same plane, an idea that has been molded since childhood. With a range of metallic materials available today, we can apply them in art, and with that I combined a taste for design and the beauty of metal in the art of metal embossing.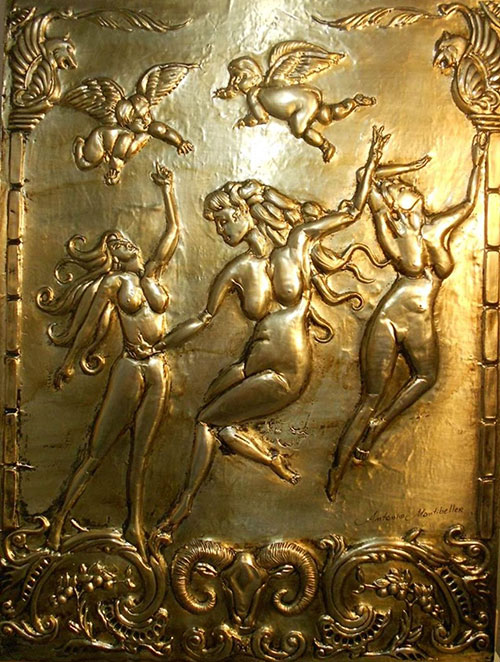 5. How do you work and approach the theme of your works?
The fascination with the shine of metal has been with us for centuries and since antiquity the obsession with wealth and power has generated conflicts, wars and losses…and amidst these movements: symbols, beliefs and religions. In my works I always try to maintain a correlation of current times with fragments of the past, or a manifestation of philosophical ideologies of existentialism. It all starts with a small idea, diving into research involving the subject in order to express the concepts or metaphors in a harmonic work.
The first step takes place in the conception of the work outlined in drawing, after the drawing is placed on the metal demarcating the profile, then the molding process takes place with punches, sculpting until the completion of all the details.
6. Does any artist inspire you?
Depending on the theme of the works I create, these always appear as a reference and inspiration: Thuri Stefan; William Adolphe Bouguereau, Albrecht Dürer, Salvador Dali, Wassily Kandinsky, Pablo Picasso.
7. What are the best responses you had to your work?
The many compliments are inherent to the detail and shine of the metal:
"- the exhibited works lead us to the enchantment of beauty, for the soul and the eyes." Poet and writer Ivo Hadlich Scheik.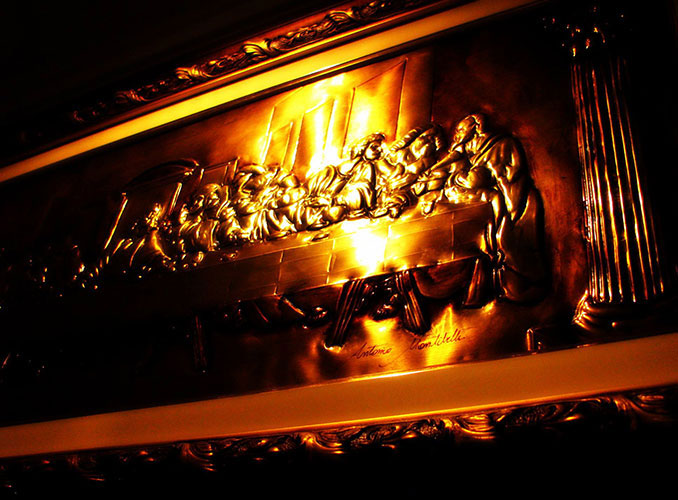 8. What do you like most about your job?
I like to investigate the relationship between historical facts, cases and neglects and the philosophies adopted over time. A game between hierarchies and freedoms; myths and truths. And also the fact that an image in high relief induces the viewer to come into closer contact with the texture and essence of the image, going beyond the limits of two-dimensional paintings.
9. Do you have any other activity besides being a visual artist?
I work in the engineering sector as an estimator and industrial process analyst in a multinational automotive company. In the artistic world, in addition to paintings and sculptures, I also write poems, some of which have already been published.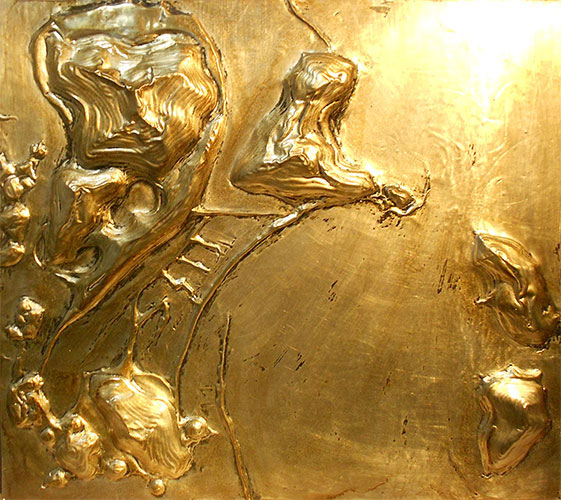 10. What are your main participations in exhibitions?
• 2023 – "Art, Infinite Art". Virtual collective exhibition curated by Edmundo Cavalcanti – Raphael Art Gallery – Social networks.
• 2022 – "A Look at Van Gogh". Collective exhibition of the group of Bluap artists – Salão Angelim, Campus I FURB. Blumenau – SC.
• 2021 – "FAAPSC Connections". Collective exhibition by the group of artists FAAPSC (Federation of Associations of Plastic Artists of Santa Catarina) curated by Astrid Lindroth, Cristina Pretti, Marc Engler, Marcelo Pereira Seixas, Nelson Julio and Tania Souza – AAPLAJ- Joinville – SC
• 2018 – "Time & Reflection". Solo exhibition at Espaço Orquídea – Shopping Gracher. Brusque – SC.
• 2017 – "The Art of Metalplasty". Solo exhibition at the Centro Empresarial Social e Cultural de Brusque CESCB. Brusque – SC.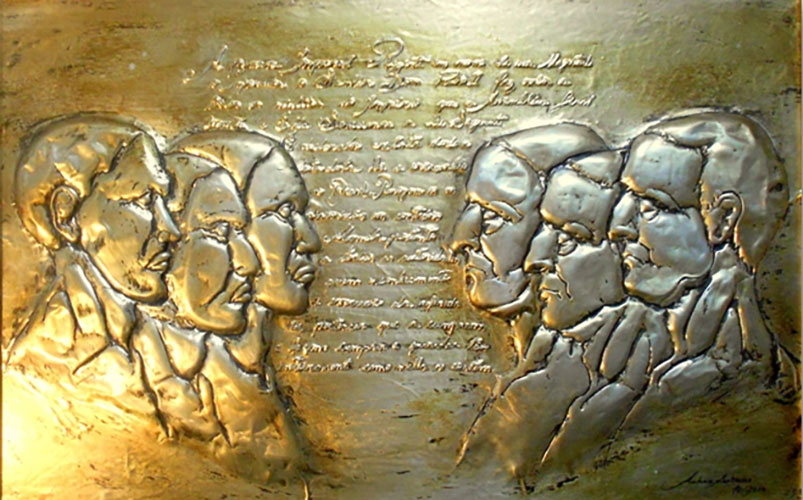 11. What advice would you give to other artists or future artists?
Believe it or not, you are ready for anything, don't wait for it to happen, don't wait for the next one, don't limit yourself to customs, don't let yourself be carried away by comfort. Have attitude! Attitude doesn't mean thinking about something, it means acting on what you thought! Make it happen! Move based on your inspiration. For the world is in constant motion. If you don't have inspiration, do anything, but do it! Inspiration will come working. Here are some words from Willian Adolphe Bouguereau: "Theory has no place…. in the artist's basic education. It is the eyes and hands that must be exercised during the impressionable years of youth…. It is always possible later to acquire the knowledge necessary for the production of a work of art, but never – and I want to emphasize this point – never will the will, perseverance and tenacity of a mature man suffice if practice is insufficient. And there can be greater anguish than that felt by the artist who sees the realization of his dream hampered by a mediocre execution?"
12. Where do you see yourself in 05/10 years?
I see myself as a great art professional, with my own gallery, teaching metal embossing courses and participating in major exhibitions.
13. Plans for the future?
Not all plans must be disclosed before they are executed, especially when it comes to future copyright works exposed to competitive media. But I intend to promote work in partnership and finish my book on Metaloplasty.