Art, // August 12, 2014
Gregg Stone – ARTIST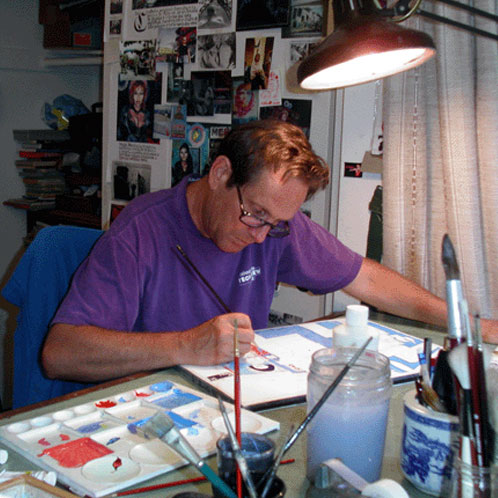 Gregg Stone may be a tenth generation Californian, but those who know the man and his art think of him as the gringo with the soul of a Latino.
He regularly prowls the avenues and byways of border region Hispanic communities with his camera, capturing images that are for the most part overlooked by others.
The images he brings back into his studio in southern Orange County never see the light of day as photographs but as eerily beautiful multi-media paintings that reveal his subjects' essence as well as his own soul.
While the socio-economic underbelly of these locales clearly captivates him, he is also keenly aware of the cultural and architectural treasures that often incongruously share space alongside the hybrid flotsam of class inequity, urban anarchy and increasing globalization.
Stone acquired this gift to see beyond the obvious during tortuous years spent on the streets of Tijuana as an alcoholic and drug addict. It was here where he was befriended by people he calls "the forgotten" and now, clean and sober since 1987, he comes back regularly to share his gift.
No significant detail escapes Stone's watchful eye, yet he also does not edit his impressions nor does he pass judgment by implication.  Instead, before being transposed into painterly narrative, his observations are filtered through his intelligence and life experience.
In a style that he describes as "Modern Realism," he creates captivating compositions rendered in watercolor, gouache and ink.
Stone honed his artistic talent and his painting skills at the Art Center College of Design in Pasadena and received his bachelor's degree in fine art (BFA) in 1978. After graduation he became a successful freelance illustrator for several Los Angeles magazines.
*Excerpt from a critical essay by Daniella Walsh; freelance journalist who specializes in writing about art and culture.
10 questions for Arts Illustrated:

1. Who are you and what do you do?
I am artist who paint realism with watercolor, gouache and ink.
2. Why art?
Because that is what I am good at
3. What is your earliest memory of wanting to be an artist?
Six
4. What are your favorite subject(s) and media(s)?
Urban blight.
5. How do you work and approach your subject?
I paint from photos.
6. What are your favorite art work(s), artist(s)?
cholo graffiti, Chaz Bojorquez
7. What are the best responses you have had to your work?
People admire the detail, 3D affect, work.
8. What do you like about your work?
It shows life as I see it.
9. What advice would you give to other artists?
Be persistant.
10. Where do you see yourself in 5-10 years?
In the great beyond.