Art, // November 16, 2014
Karen Grenfell – ARTIST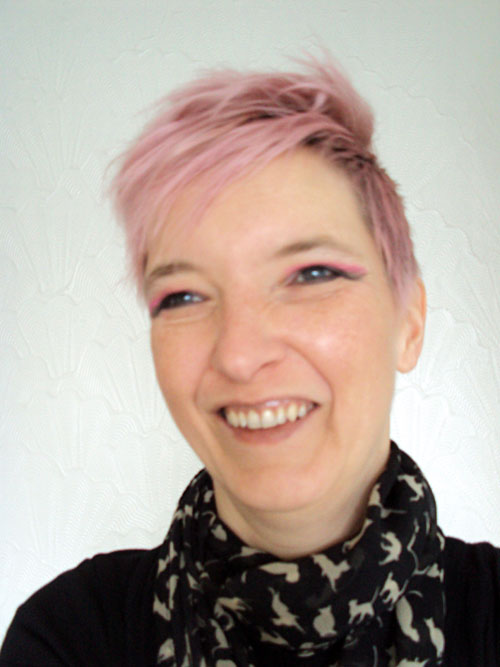 Interview with artist Karen Grenfell
1. Who are you and what do you do?
My name is Karen Grenfell and I'm a watercolour painter and mixed media/ textile artist specialising in animal portraiture.
2. Why art?
I can't think of anything else I've ever wanted to do, I loved messing around with paint and colour as a kid and nothing's really changed since then…and that's a long time ago now!
3. What is your earliest memory of wanting to be an artist?
Vivid memories of colouring in pattern books with my Dad when I was 5 and being quite shocked he was colouring outside of the lines and not sticking to the pattern, but thinking he definitely had something good going on there.
4. What are your favorite subject(s) and media(s)?
Animals and watercolour. I love the way watercolour has a life of it's own and I think it captures the life/essence/spirit etc of a subject without too much detail/information.
5. How do you work and approach your subject?
Fast and furious!  I'm generally all over the place in my studio, I start at my desk, then onto easel and eventually the work ends up on floor and I end up spattering and dropping paint and water all over the place, it gets very messy but once I start painting and the music is on I get quite carried away and lost in the work.  I try not to focus too heavily on the subject as such; if I set out with *I'm going to paint a cat* or whatever it's kind of the kiss of death and ends up over worked; I probably bin as many works as produce ones I'm happy with.  i just concentrate on colour and shapes and find most times it works!
6. What are your favorite art work(s), artist(s)?
I'd probably break the internet if I named them all, but I do adore Van Gogh, his works were some of the first I saw as a kid and they stuck in my brain.  Klimt has been a big influence especially with my embroidery. Modern day I'd say Jenny Saville for sheer power.
7. What are the best responses you have had to your work?
Smiles and tears…(but good tears!)  Most of my work is commissioned based and in many cases the works have been memorial pieces; I've had a lot of emails from clients who said they were moved to tears when they opened their painting and really you can't get a much better response/validation.
8. What do you like about your work?
Immersing myself in the paint (quite literally sometimes!) It's a total escape from the world, just dropping colours onto wet paper or canvas and watching them move and bleed into each other and seeing what emerges.
I also enjoy the embroidery, the rhythm of sewing, the textures that build against the paint.
9. What advice would you give to other artists?
Be fearless, break rules, don't compare yourself or your work to others. Make mistakes, learn from them. Love what you do.
10. Where do you see yourself in 5-10 years?
Pensionable and arthritic but hopefully still earning a living doing what I love doing!
LINKS:
Website:  www.mimiloveforever.com
Facebook: https://www.facebook.com/MimiLoveForeverArt
Twitter: https://twitter.com/mimiloveforever