Dance, // April 24, 2020
Nayanika Vyas — DANCE

Interview with dancer Nayanika Vyas —


1. Who are you and what do you do?
I'm Nayanika Vyas. I was born and raised in New Delhi, India. I moved to the US four and a half years ago to fulfil my lifelong dream to become a dancer trained in western dance. In India this is considered an unconventional career choice, and the possibility to pursue one's education in this field is practically non-existent. I graduated from The University of the Arts in Philadelphia in 2019 with a BFA in Dance and a Minor in Business. Currently, I'm a Performing and Teaching Artist based in New York.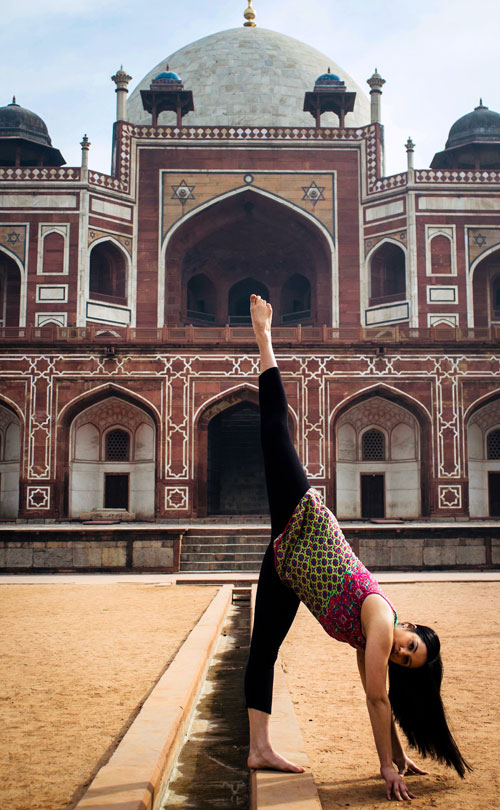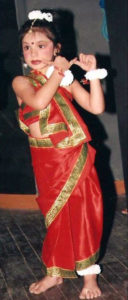 2. Why dance?
Dance was a huge part of my life growing up! It was often, an outlet to express myself when I couldn't find the words. I decided very young that I wanted to realize myself as a dance artist and grow to my highest potential. I can't really imagine myself pursuing anything else. This is what inspires me, rejuvenates me and gives me life force!
3. What is your earliest memory of wanting to be a dancer?
Well, funny story. I was five years old when my mother practically forced me to join a Jazz dance class as a hobby. I initially hated it since the class timing clashed with my post-school nap time! I would stand by the studio's door and cry my eyes out, waiting to go home. A few months in, we started to get ready and rehearse for the studio's upcoming annual showcase. After I went on stage for the first time, I fell in love with the endorphin rush and decided that this is what I wanted to do for the rest of my life, and everything after that was all about dance.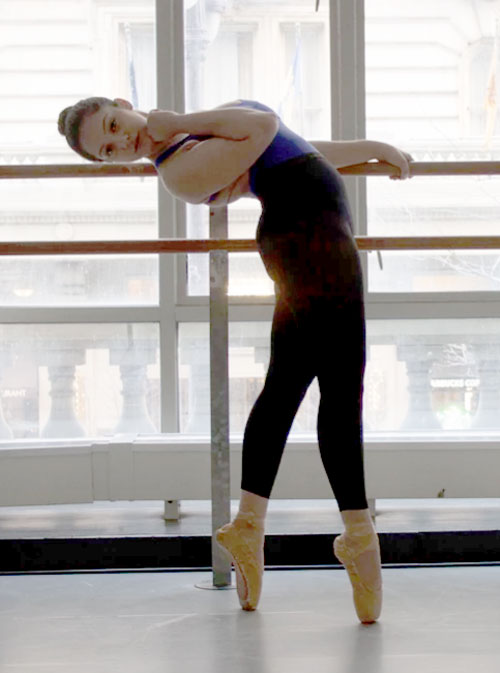 4. What are your favorite subject(s) and style(s)?
I've been classically trained and growing up my teachers focused a lot on technique. I'm trained in different dance styles like Ballet, Jazz and Modern. While I love them all equally, I definitely find the one that resonates with me the most is Contemporary Ballet movement.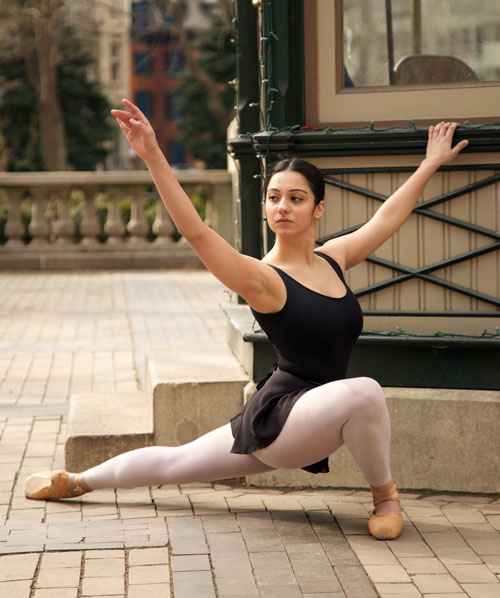 5. How do you work and approach your subject?
My creative process is intricate. I have so many dimensions that I feel urged to explore and turn all my thoughts into material. I start and end my process with research on my subject until I feel like I know enough and have exhausted all resources. That security of 'knowing' eases me in, once I begin to frame a piece of work.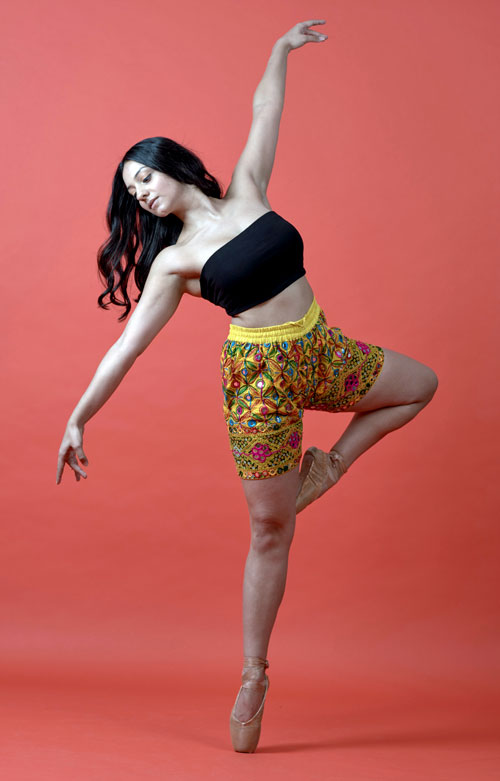 6. What do you like about your work?
I like my work to be personal, but also universal. If I can't resonate with my own work, I can't expect others to resonate with it. The hardship of being an artist does not come close to the fulfilling nature of this career. I hope to dedicate my life into creating and being a part of work that touches and changes peoples lives.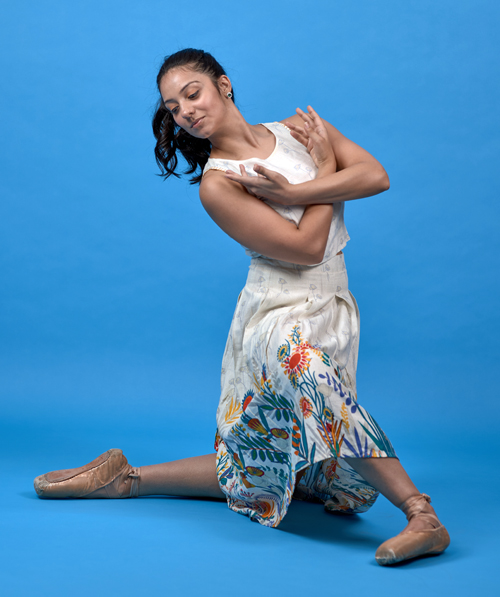 7. What are the best response you have had to your work?
Last year, I choreographed a piece for my senior thesis in college titled 'A Tribute to My Roots'. The piece was an amalgamation of Western and Indian dance styles that I brought together as an attempt to literally blend my 'two worlds". I trained seven dancers to a completely new dance style that they had never learnt before, and even used Bollywood music and costumes! Towards the end of the piece, flower petals rained down on the dancers and audience alike, making it seem like a happily-ever after Bollywood movie!
I got a standing ovation from the entire audience. I felt so proud to have brought my culture to my university where I was the first native Indian. It sounds corny but I actually think about that moment every single day since.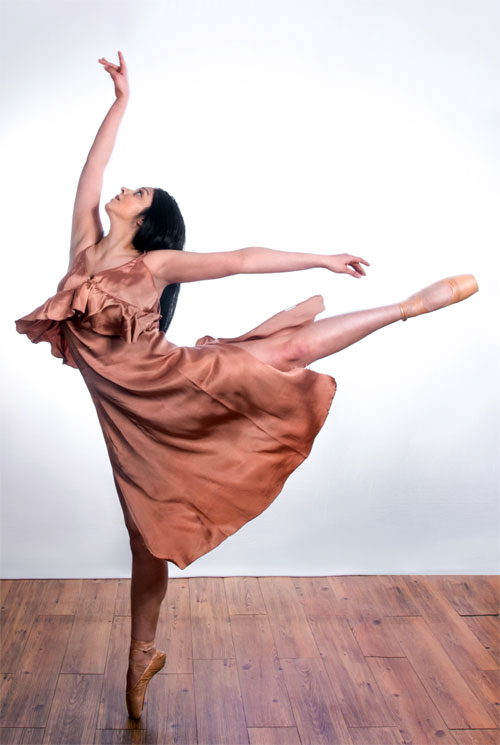 8. What are your favorite performance(s), artist(s)?
I'm a big fan girl… I obsess over a new choreographer every week. Twyla Tharp, Parisa Khobdeh, Akram Khan and anything Netherlands Dans Theater never fails to inspire me.
9. What advice would you give to other dancers?
Keep your head down and keep working. Resilience is key.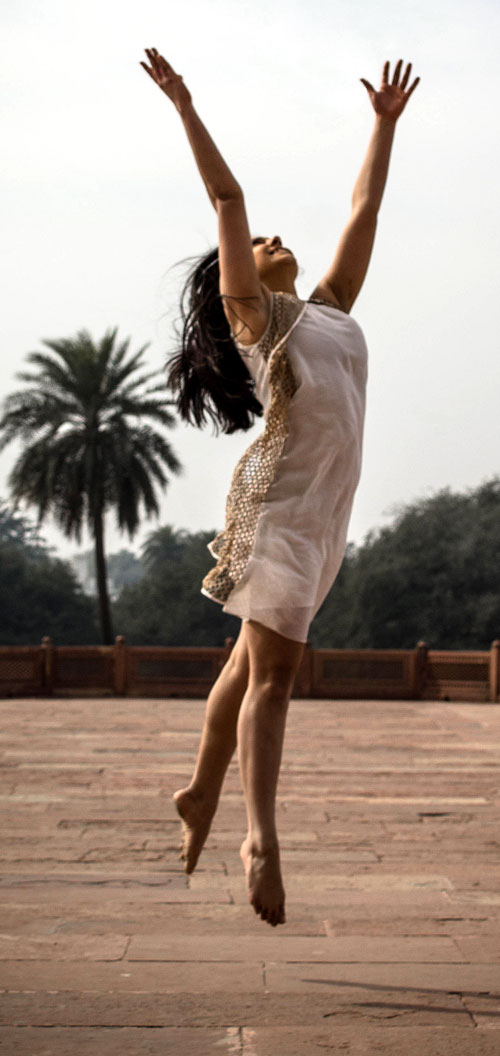 10. Where do you see yourself in 5-10 years?
I am thrilled to have broken boundaries and inspired other young artists back home to build their passion into a career. As the years have gone by, I've received numerous emails from other aspiring dancers in India who want to follow my path. For the next few years, I aim to undergo diverse and rigorous training from performing dance companies in the United States, and then armed with knowledge and experience, I want to return to my homeland to begin my own dance company for those who share my passion for dance, but remain deprived of technical training due to lack of opportunity or resources in the way that I have experienced.
LINKS —
Website:  https://www.nayanikavyas.com/
Instagram:  https://www.instagram.com/nayanikavyas/
VIDEOS –
Nayanika Vyas' Dance Reel:  https://www.youtube.com/watch?v=PxK48pr7HUE&t=1s