Art, // April 9, 2023
Patricia Cassanello — ARTIST
Interview with the artist Patricia Cassanello —
1. Tell us a little about yourself.
Born in Sete Lagoas, MG, Brazil, but raised in São Caetano do Sul, SP, since she was 5 years old. Graduated in Advertising from the University of São Caetano do Sul and an art lover since childhood, I studied at the Fundação das Artes de São Caetano do Sul.
2. Why art?
Art has always been present for me since I could see myself, since I was very young I would exchange any toy for a sheet of paper and a pencil.
3. What is your earliest memory of wanting to be an artist?
Now, who never received that question as a child: "What do you want to be when you grow up?" And I already knew inside that I should draw and paint.
4. What are your favorite topics? What materials do you use in your works?
My favorite theme is always animals. I've always enjoyed drawing and studying their shapes and anatomies. Currently I'm in the drawing phase with colored pencils on black paper, how cool it is to use these materials.
5. How do you work and approach the theme of your works?
I usually choose an animal that I think is beautiful, or that I haven't done yet. And then I do a search for photos, positions and then I choose someone who has something to say to me. I know I could convey that feeling in my drawing.
6. Does any artist inspire you?
Well, I really like the great painters, not only works but also their stories, like Van Gogh, Rembrandt, Monet, among many and from different schools and styles. Mirò, Dalì, Frida Kahlo…
7. What are the best responses you've had to your work?
Look, it's always best to hear from experienced curators the positive messages I've been hearing, and of course, from my audience who have always supported me, my real friends and the people who encouraged me from the beginning.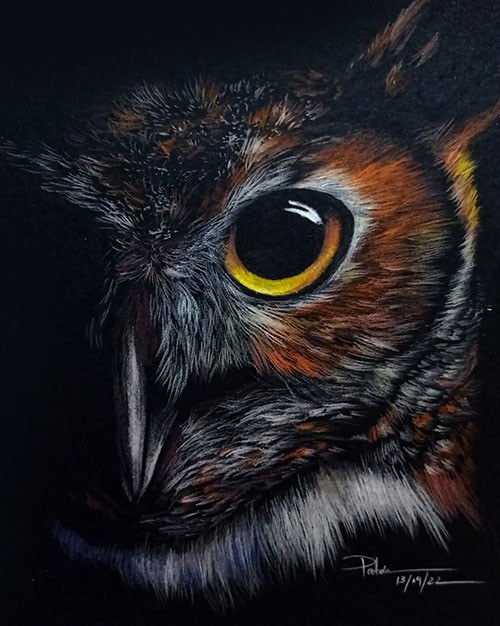 8. What do you like most about your job?
I like the format I developed, the high contrast and the expressions I get from the eyes of the animals I portray.
9. Do you have any other activity besides being an artist?
Yes, I am active in creation at a large company in Brazil, where I develop all the packaging and brand design, I am also a Graphic Design teacher and a French teacher in my free time.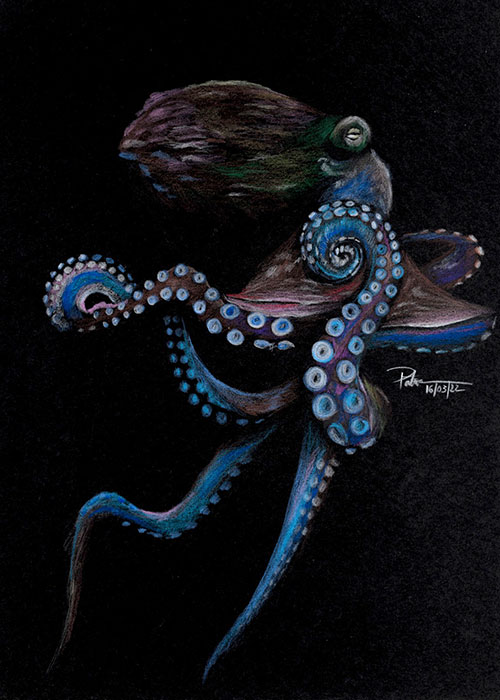 10. What are your main participations in exhibitions?
– Latest: Anjos Art Gallery at the exhibition "Dialogos Contemporâneos" in Pinheiros, São Paulo/SP/Brazil- from March 14 to 30, 2023- Curated by Maria dos Anjos Oliveira
– International Festival of Image of Nature of Vila Real (Portugal) from 13 to 25 November 2022.
– Mads Gallery at the International Art Exhibition Pretty Perv, with Obra Octopus, in Milan and the Canary Islands from September 28 to October 4, 2022 – Digital Presence Exhibition / Digital Media and Metaverso
– Menai Dao SP – First Decentralized Art Gallery – Virtual Gallery – Virtual exhibition in the metaverse at more than 80 points in the interior of São Paulo, reaching more than 100,000 people. From 30 Sep. on 15 Oct 2022.
– Show your Art – Digital exhibition projected on buildings – in Belém do Pará/Brazil, with 5 works from September 17 to 20, 2022.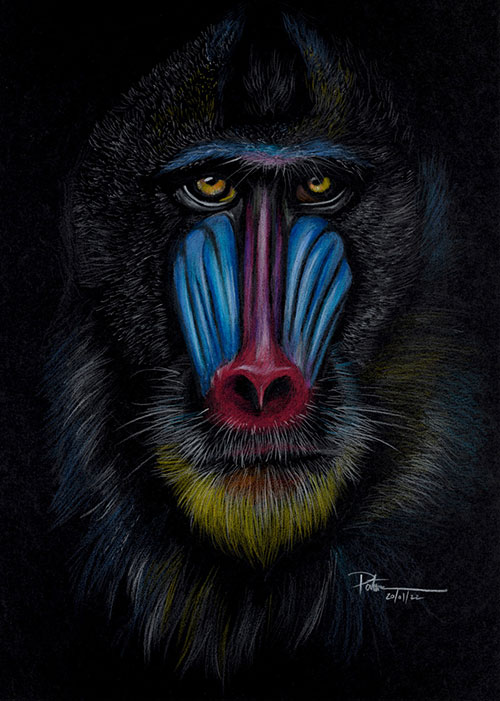 11. What advice would you give to other artists or future artists?
May they never stop drawing or painting, because things are happening as we go on.
12. Where do you see yourself in 05/10 years?
I see myself continuing and always changing or improving my art, it doesn't matter the technique, the style, we always have an evolution.
13. Plans for the future.
Draw, draw and draw.
LINKS/SOCIAL MEDIA —
Facebook: Patricia Cassanello
Instagram: @patyisdrawing