Art, // March 31, 2014
David Reinbold — ARTIST
Interview with the artist David Reinbold —

1. Who are you and what do you do?
My name is David Reinbold and I draw, paint and also do digital graphic art.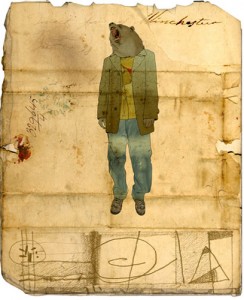 2. Why art?
When I think of my childhood I see many coloring books and times spent watching the light come in through a window in the dining room changing and illuminating objects in that room in magical ways. I could sit for hours and hours watching the light enter and play and change. I always felt….. wow! I would like to show others how I see air and light.
3. What is your earliest memory of wanting to be an artist?
My childhood coloring books where I always tried to stay inside the dark linear expressive lines of the cartoon characters, which inspired my attention to detail and my love of expressive, gestural line in pencil and or pen and ink. Also watching the light come in through the dining room window in all times of day.
4. What are your favorite subject(s) and media?
My favorite subjects are landscapes, urban buildings and alleys. Also figures or figure in an interior environment with light and air. My favorite drawing media is Conté crayon, Graphite pencil and oil pastel. I also like to do abstract work in Pen and Ink, Acrylic, Gouache and Graphite.
5. How do you work and approach your subject?
I work in short expressive spurts and tend to finish the work in one sitting. I don't like to come back to a painting or drawing many times, for me it tends to get boring and it feels like I am trying too hard to get a feeling or 'look' if I work on a drawing or painting too long. Or what I would consider too long. Sometimes I scrap the work if I keep coming back to it and it starts to look overworked.
6. What are your favorite art works, artists?
My favorite artworks contain paintings and I have always been amazed at anything done in marble sculpture. I always wonder how someone can take that block of marble and turn it into a beautiful sculpture. My favorite painter is Richard Diebenkorn, he is a contemporary master painter and his color, composition and brush work is beyond compare. For me he has always been the 'kind' of painter I wanted to be. Also Edgar Degas, Édouard Manet, Henri Matisse, Willem de Kooning (early work), Édouard Vuillard, Johannes Vermeer, Vincent Van Gogh, Pierre Bonnard, and I could go on and on…………… These are all Master Painter historical influences. Also watching my daughter grow and prosper into a master painter.
7. What are the best responses you have had to your work?
I remember when I first started doing drawings in Conté crayon  I entered a local Museum competition and was accepted. I came around the corner at 'The Opening' and saw where my drawing was hanging with a young woman standing in front of it obviously weeping. I at first didn't know what to say and then asked why she was weeping and she said 'I have never seen anyone do a drawing that has so much light in it and it is drawn with such tenderness that it evokes all kinds of memories and emotions in me and I can't stop crying and looking at it'. I didn't know what to say and just turned and looked at my drawing with her in a whole new way. This is how I remember it and what she had said. A very moving and emotional experience. It also instilled in me what intense power a work of Art can have.
8. What do you like about your work?
That it always evokes an emotional response and it is not rooted in any intellectualism. It comes out of my soul and heart essence.
9. What advice would you give to other artists?
Draw Draw Draw!!!!!!!!!!!!!! As my High School Art teacher said to me so many times. You learn to draw by drawing and you learn your technique and craft by doing it over and over and over and over again. Then you can visualize and put down on paper or canvas what is in your heart and soul and won't let you be until you do it. There is nothing more frustrating than seeing something and having a vision and then not having the technical prowess to realize that vision. This 'technical prowess' only comes with repeated drawing and or painting or whatever medium you are working in.
10. Where do you see yourself in 5-10 years?
I try not to look into the future…… I hopefully let everything unfold. How can one make plans in such a chaotic world?
ARTIST'S STATEMENT –
My Passion is for light, whether it be streaming through a window, cutting across an open field or illuminating a group of trees in the early morning. My drawings are about light and air and the sensuality of the drawing hand moving across the paper. They express a feeling of the time of day and those fleeting moments of brilliance.
LINKS —

Website:  www.davereinbold.com
Facebook:  https://www.facebook.com/davereinbold?fref=ts
Artist's Video :  http://youtu.be/QjR2k74U0HU
Education:  M.F.A. Southern Illinois University, (Drawing and Painting), 1981
B.F.A. Kutztown University, (Drawing and Painting), 1977